Practical gift ideas for truck drivers.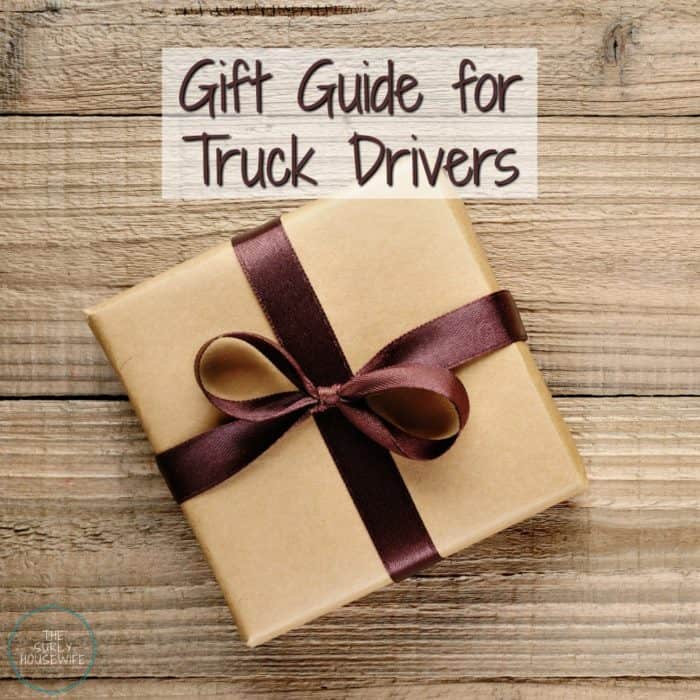 GIFT IDEAS FOR TRUCKERS
STOCKING STUFFERS
It can feel really cliche to buy someone socks but trust me. Wool socks keep your feel warm in the winter and cool in the summer.
Even with electronic logs, truckers still have plenty of paperwork to fill out. Therefore they need a good pen and I guarantee you this will put a smile on his face to see these!
Bullet Journals. They are light, compact, and perfect for writing down anything and everything. Ditch the sticky notes and scratch paper and get yourself one of these babies! I mean, gift one of these babies.
Gift Cards. Sometimes truckers need the most random things or something you have no idea what it is. Gift cards, especially from Amazon, are the perfect gift because they can get what they truly need.
PERSONAL ITEMS
Watch
An automatic watch will make all the difference for any man. Every man deserves a nice watch and this Seiko is my husband's favorite. It's stylish, water-resistant to 200M, and he will cherish it for years to come.
This leather hanging bathroom kit will please men and women truckers alike! This timeless design features 4 internal pockets and can hang or lay flat.
Toiletry Bag
Another dopp kit option for under 20 bucks! This canvas toiletry bag has a thick leather handle and a study metal zipper making it perfect for stashing in a duffel bag!
WORK GEAR
Road Atlas
An atlas you say?! You really need one in the age of GPS? Yes, yes you do. Service isn't always reliable but maps are. "Part of the #1 selling trucker's road atlas line, the new and updated Large Scale Motor Carrier's Road Atlas features maps that are 37% larger than the regular Motor Carriers' maps, laminated tear and water resistant pages, and tough, spiral binding for stay-flat pages."
Pry Bar
Utility bar/4-in-1 tool for prying, splitting, board bending, and demolition. Great for breaking down materials, opening trailer doors, and taking care of an mishaps that occur.
Many trucks come with small refrigerators these days, but they aren't always super cold. Yeti makes the best coolers that keep things cold for hours. They are well worth the investment. This size fits perfectly on the passenger seat where many truckers store their cooler.
Tumbler
Keep your cold drinks cold and your hot drinks hot! They are super sturdy and survive the traveling that truckers do.
This reliable, heavy-duty flashlight is like no other flashlight out there. It has a 1600 maximum lumens output and 283 meters beam distance. It's an ultra-compact flashlight that comes with a rechargeable battery. It's heavy duty but lightweight enough that you don't know you are carrying it!
Headlamp
"Multi-beam headlamp designed for proximity lighting, movement, and distance vision. White and red lighting for nocturnal stealth."
There is a saying amongst men, "I have a leatherman, I can help!" This multitool is a life-saver on the road. "The Surge is equipped with 21 tools, including knives, pliers, screwdrivers, wire cutters, an electrical crimper, a wire stripper, scissors, bottle and can openers, files, a saw with blade exchanger, an awl, and a ruler." Men love gadgets and this is the ultimate gadget!
Seat Organizer
Truckers need to make use of every space in their truck and these seat organizers are genius! It fits over the back of the headrest and is a great place to store things you need easy and quick access to.
Sunglasses
Gloves will help trucking not be such a dirty job. Mechanix gloves are the freaking best. They are very durable and machine washable.
Everyone has a different preference for headphones or headsets but these BlueParrott B450-XT Noise Canceling Bluetooth Headset are one of Amazon's top purchased items!
With Audible you get 1 book each month for $14.95/month, 30% off the price of additional audiobook purchases, and you can cancel anytime. Your books are yours to keep, even if you cancel. It's great for those hard to find audiobooks that your library may not have.